Discover more from Safari's Substack
Romance + Fantasy Author
Let's Get Spooky
It's spooky szn y'all!
It's finally AUTUMN!!!!
Yes, I am excited.
I can't help it. It's a character flaw.
When the first crisp morning greets me outside my door, I absolutely lose all sense of shame! I frolic more than is socially acceptable for adults. Although - let's be honest - does anyone know the socially acceptable limit on frolicking??
If you do, don't tell me.
N-E-WAY, to kick off the best season, we went apple picking at R & A Orchards in Ellijay, Ga. The weather was not as cool as I hoped and there was a crowd, but it was still loads of fun! Our friend Joe even tagged along and took some great pictures for us.
Here are some pics from the adventure.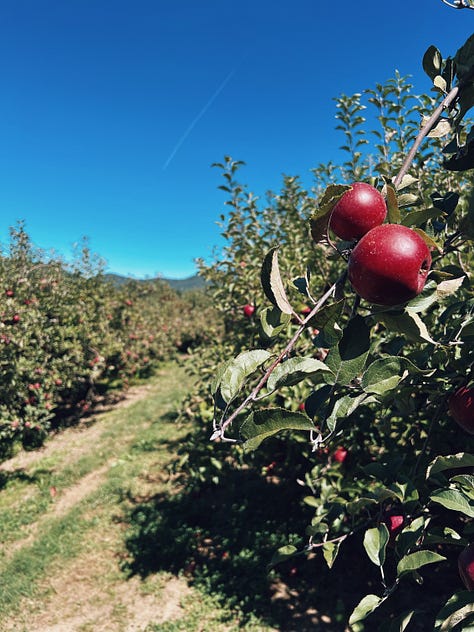 This place has a truly gorgeous vista.
It's so calming to walk along the orchard rows - even if you're melting under the hellish sun with smashed, rotting apples underfoot.
I think it's because while I didn't grow up going apple picking, I do remember going peach picking and strawberry picking a few times with extended family.
Now every time I'm in an orchard, that warm, fuzzy joy from childhood wells up in my chest. It's strange how wisps of memories connect you to fragments in the past that are more fleeting than firm, but somehow the roots took.
I'm hoping someday to clear a portion of our land and put in my own little apple and peach orchard.
Until then, I love this tradition! The little cheeseballs don't seem to mind it, either.
---
What I'm Reading
I'm currently reading an ARC of The Secret of Stardust by Heather LL Fitzgerald and it is guuuud. That one comes out on October 25th, and you might want to grab it!
Curses and Other Buried Things comes out on October 10th and I've been looking forward to that one for months.In fact, I'm buddy-reading it with fellow Southern Scribe Society member, Tristan Tuttle.
So you could say my reading work is cut out for me this month. I'm not as fast a reader as I have been in the past, especially since I'm trying to prioritize editing Reckless Truth.
Since editing is reading, I guess worst case scenario is that I'll just read my own book??
---
Reckless Truth
Excerpt
Adair could not see the horizon, not really, for her vision was muddled by tears thick and weary of grief freezing with the blood splatter on her thinning cheeks. Still, she knew that the dark line blurring the gray sea with the sky was where she should be. 

Perhaps her son waited for her there, just past her mortal vision in the unknown ever after. She could swim until she flew.

He would be healthy and whole in the eternity past the sea. He would not be deformed and hidden beneath the earth, buried in an unmarked grave near the church who rejected him. 

She could hold him forever.

Her arms loosened at the hinges and lowered the rebellious torch in hand, her fingers trembling in each forceful flinch of the fire as though she could wield it with enough concentration. But alas, the powers were fading.

And she was, too.

Her dress no longer fit. No longer did it hide the promises she made to the devil himself and bound them on her person. Beneath her dirty skin, the dark tendrils itched like unholy, unrepentant hands digging to reach her soul.

The sleeves of her torn and bloodied dress fluttered and flapped in an angry pattern against its will, retreating down to her stays to reveal the inked markings along her arms and shoulders.

She was given the stigma years ago when Lady Moldina began to teach the Wiccan arts and grow her in the forbidden mystic powers. 

Now there was a debt to pay, and there would be no denying the collector. She had lost every child she carried. All but one.

She had him long enough to dare a name.

She choked back a sob at the memory of it, and then cried out in anger, protesting and pushing the combination of letters away.

As the cold water crawled in rhythm to her cracked leather shoes, the chill took hold of her toes. The frosty intrusion was sobering, and her weeping eyes began to clear with conviction. 

The men who cursed her and refused her sickly son kindness would suffer her wrath. She could seek vengeance against the religious self-righteous if she were in her immortal form. She would find them all.

Hunt them.

Haunt them.

Feeling faint, a wave of weakness washed over her as the bitter air whipped around. Shivering, she fell to the shifting shore before she was ready to give herself up to it, for she had not tasted food in so long there was no strength holding her captive inside her bones any longer.

All will had left with the pull of the blade against the priest. She lowered her face to her trembling hands, certain the tide would take her now that she could not fight it.

In that moment, she felt a new chill. Something deep and primal prickled in her soul, sending it skittering beneath her skin. The rush gave her the strength to straighten in the sand.

Something not of this world was coming round, and she would not fear it – not now. For she had called it, had she not?

With every evil deed she had done, she beckoned darkness ever closer. Even the waves were swaying against the shore in an increasingly erratic pattern, as though the sea itself both yearned for and loathed what lurked behind her. Her lungs collapsed as she watched the sea foam smoke into flame and water became fire.

It was the vision, but it was happening.

The kraken for the sea

The sea for the key

The key for the lyre

The lyre for the fire

She shut tight her eyes, certain death had surely taken hold at last, and she was seeing things only angels and demons should. She waited for the moment that ended all others, but it did not come.

Nothing happened – except a strange sound. Strange because it was common. Commonplace and out of place.

The clearing of a throat.

Frowning, she turned back and lifted her eyes into an abyss. The creature was not human, but it had the shape of a man. The silver moon cast him in a haloed shadow, hiding his face instead of illuminating it as it should.

Then he spoke, and the end began.
---
There it is!
I hope you enjoyed your spooky little bite of Reckless Truth. I'm so excited to share this story and characters with you in the coming months!
Until the next newsletter, friends!
---
Stay safe and well read out there,
Thanks for reading Safari's Substack! Subscribe for free to receive new posts and support my work.
---